(1969, Maryland, US)
With their symmetrical compositions, intricate patterns, and lush colors, Maya Hayuk's paintings and massively scaled murals recall views of outer space, traditional Ukrainian crafts, airbrushed manicures, and mandalas. The artist weaves visual information from her immediate surroundings into her elaborate abstractions, creating an engaging mix of referents from popular culture and advanced painting practices alike while connecting to the ongoing pursuit of psychedelic experience in visual form. She has painted her iconic outdoor murals all over the world and, when not traveling, maintains an active studio in Brooklyn, sketching in paint to inform the large-scale works. Maya Hayuk sees her studio painting practice and mural making as both inversely relational and symbiotic.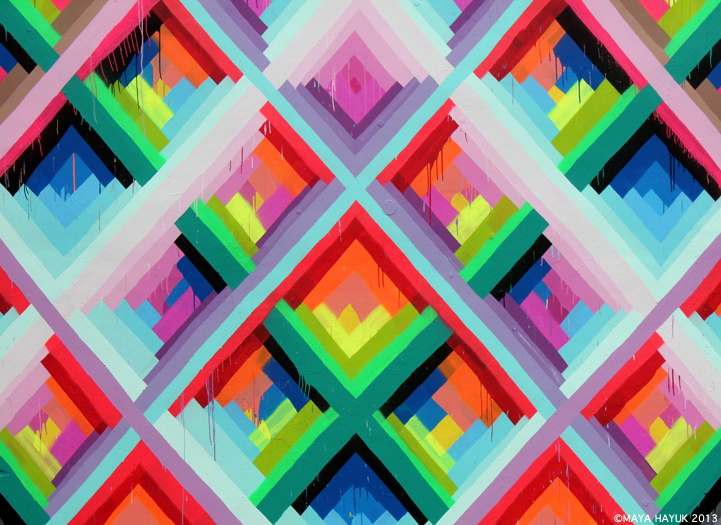 Maya Hayuk earned a BFA in Interrelated Media from Massachusetts College of Art in 1991 and has studied at V.C.U. in Richmond, Ontario College of Art and Design in Toronto, the University of Odessa in Ukraine and at Skowhegan School of Painting and Sculpture in Maine.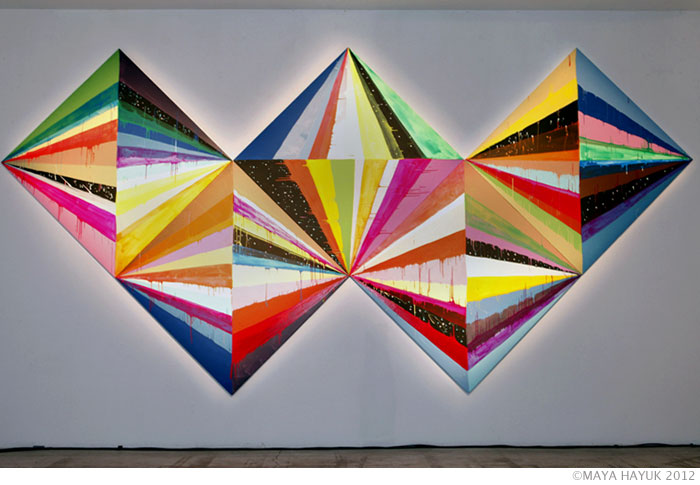 Her work has been the subject of one person exhibitions and commissions at venues including The Hammer Museum, LA (2013), The Museum Of Contemporary Canadian Art, Toronto (2013), Bonnefanten Museum, Maastricht (2012) and Socrates Sculpture Park in New York (2011). Aditionally, Maya Hayuk has curated numerous exhibitions, is a member of the Barnstormers collective as well as the Cinders Art Collective and she frequently collaborated with other artists and musicians. She has created album covers, hand-made screenprints, videos, stage sets, photographs and posters for famous musicians such as Rye Rye/M.I.A and The Beastie Boys. Furthermore, she has curated "This Wall could be your Life" (2005 - 2011) on the exterior walls of the now legendary and recently demolished Monster Island/ Secret Project Robot in Williamsburg, Brooklyn.
Watch this video by Hammer Museum: