(1958, New York, US) / (1961, New York, US)
Lin Felton aka QUIK is a painter and graffiti artist from New York. He was born in Queens in 1958 and started using graffiti to display his art in subways. He is known for his comical and satirical style that is known to be arrogant. Felton started tagging the walls of Queens at the age of 10, taking the name Star10. His fascination for this world started when he saw the metro trains in movement covered in tags. He then changed his name to QUIK and signs wherever he can.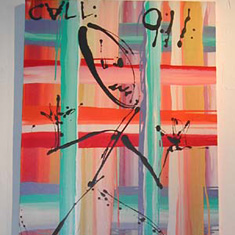 Richard "Richie" Mirando, known as Seen UA, born 1961 in the Bronx, New York City, is one of the most well known graffiti artists in the world, often referred to as the Godfather of Graffiti, although he did not pioneer the movement.
Seen first started to paint on New York City subway system in 1973. His crew United Artists (or simply UA) quickly gained the reputation for producing full-color throw-ups on whole cars with members such as Pjay, Duster, Sin, and his brother Mad.