(Vancouver, Canada)
Curry works exclusively with oil-based paints and varnishes on wood, classical tools and methods chosen for their proven stability over hundreds of years of art history. His paintings reveal his preoccupation with concepts related to disorder and change, especially the ever present relationship between the cityscape and the unpredictable forest.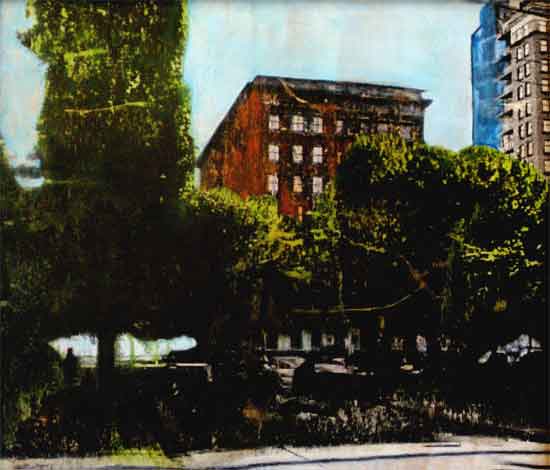 Adam has been painting since 1985, after graduating with a Diploma of Fine Arts from Emily Carr College of Art and Design. His practice incorporates a wide range of available technology: digital photography, the world wide web, as source materials, having them reproduced electronically, and then applying Dammar Varnish layered oil – sometimes 20 layers deep – painting techniques to create optical effects. Images are captured with a cell phone camera, then printed in large-scale format by a shop specializing in blueprints.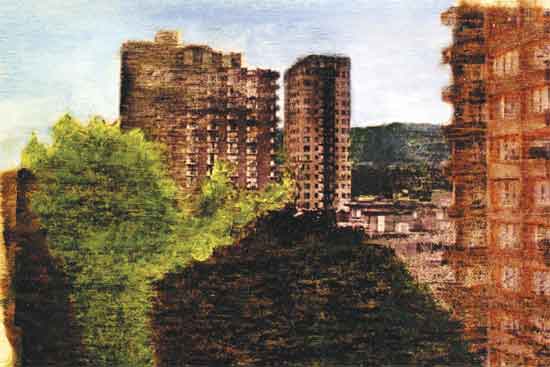 Layers of tinted varnish serve to gorgeously illustrate Curry's concept that the conquered forests of Vancouver, are continually returning, threatening to blur the clean lines of the human landscape, even in the midst of the concrete jungle. His work references the past while challenging our notions of modern painting. Adam moves the viewer on a cinematically inspired narrative sometimes historical, sometimes fantastic or experimental in theme. The paintings in a series engage the viewer with wit and humour to reveal linear and nonlinear patterns.
Watch Adam Curry at Polychrome Fine Art: